Since our Iowa Outreach Project launched a month ago, we've held six public viewings of the Better Angels: Reuniting America documentary. The first one was at Graceland University in Lamoni, and we've since held screenings at public libraries in Polk City, Newton, Dubuque, Eldridge, and Burlington.
The viewing in Newton was jointly cosponsored by the Jasper County Republicans and the Jasper County Democrats. They have a nice history of collaboration in Jasper County. In December, they will be cohosting their third soup dinner and food drive, which I think is very cool, and I plan to bring my "Iowa chili" again this year.
We had a nice writeup of the recent documentary screening in the Newton Daily News. A brief excerpt of that article follows.
Newton Daily News: 'We must not be enemies'
Peters' presentation a week ago was co-sponsored by both the Jasper County Democratic Party and Jasper County Republican Party.
Both chairpersons of the local parties — Michelle Smith and Thad Nearmyer, respectively — have organized and embraced bipartisan events in the past, such as the annual bipartisan soup supper. Held in early December last year, the fundraiser attracted several party leaders to the Jasper County Community Center to raise money for the local food pantry.
Nearmyer agreed Jasper County's elected officials make efforts to work together, but said the divide comes more from constituents. But based on the reception and higher-than-expected turnout of last week's event, Nearmyer isn't ruling out the possibility of another type of workshop in the future.
"I feel like we had a lot of people interested enough to come to the first event so maybe that's a possibility," Nearmyer said.
Smith said there are certainly political differences between herself and her GOP counterpart.
"It doesn't mean at the end of the day there aren't things we can agree on and work together on, and that's something we really try to showcase," Smith said. "I think there's so much we can do to improve our communities and things that are important to us."
I'll be presenting at the Marion-East Cedar Rapids Rotary tomorrow, 10/08 at noon, and at Gateway Rotary in Cedar Rapids in the morning of 10/18. Upcoming documentary viewings include at the public libraries in North Liberty on 10/15, Fairfield on 10/15, Clive on 10/16, Cedar Falls on 10/21, Ames on 10/28, and at the University of Iowa School of Law on 10/18. There's a Skills Workshop scheduled in Ames on 10/12, and a Red/Blue Workshop scheduled in Fairfield on 10/26. Meetings of the Fairfield Alliance will be on 10/19, and of the Clinton Alliance on 10/25.
We have more events on the horizon, and are actively working to schedule more. If you'd like us to come to your community, please let us know!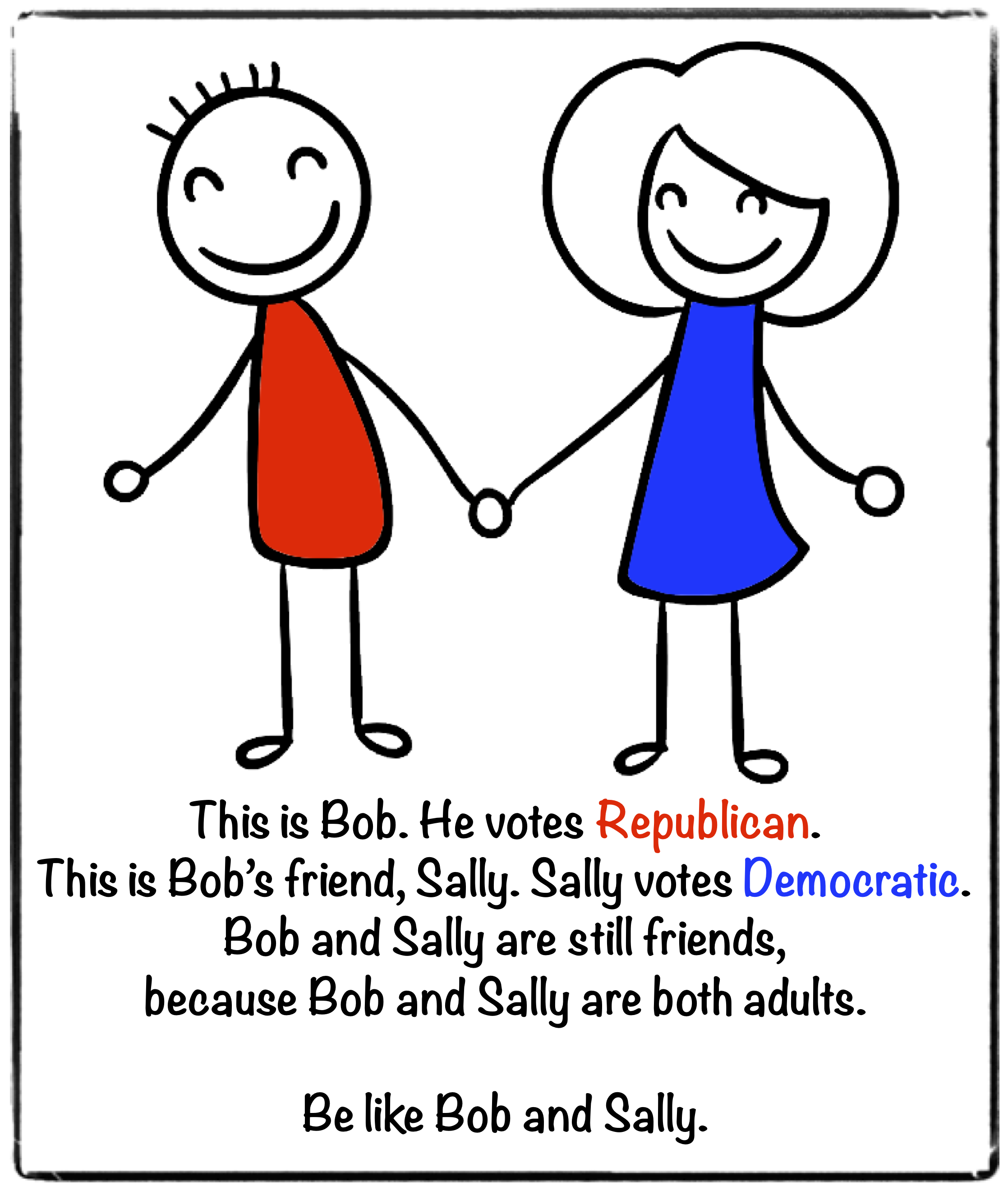 According to Facebook, this cartoon has reached over 2 million people and been shared more than 23,000 times since we first posted it on our Better Angels Iowa page just under a month ago!
How You Can Help
We remain dependent upon your support to continue this important work! I don't think it is hyperbole to say that defeating political polarization and promoting civil discourse is critical to preserving our republic. After all, if we can't even talk with one another, how can we govern ourselves?
Would you please consider supporting us with a tax-deductible charitable donation?
You can do so at the link below, or by mailing a check to:
Better Angels Iowa
420 Lexington Ave
Room 300
New York NY 10170