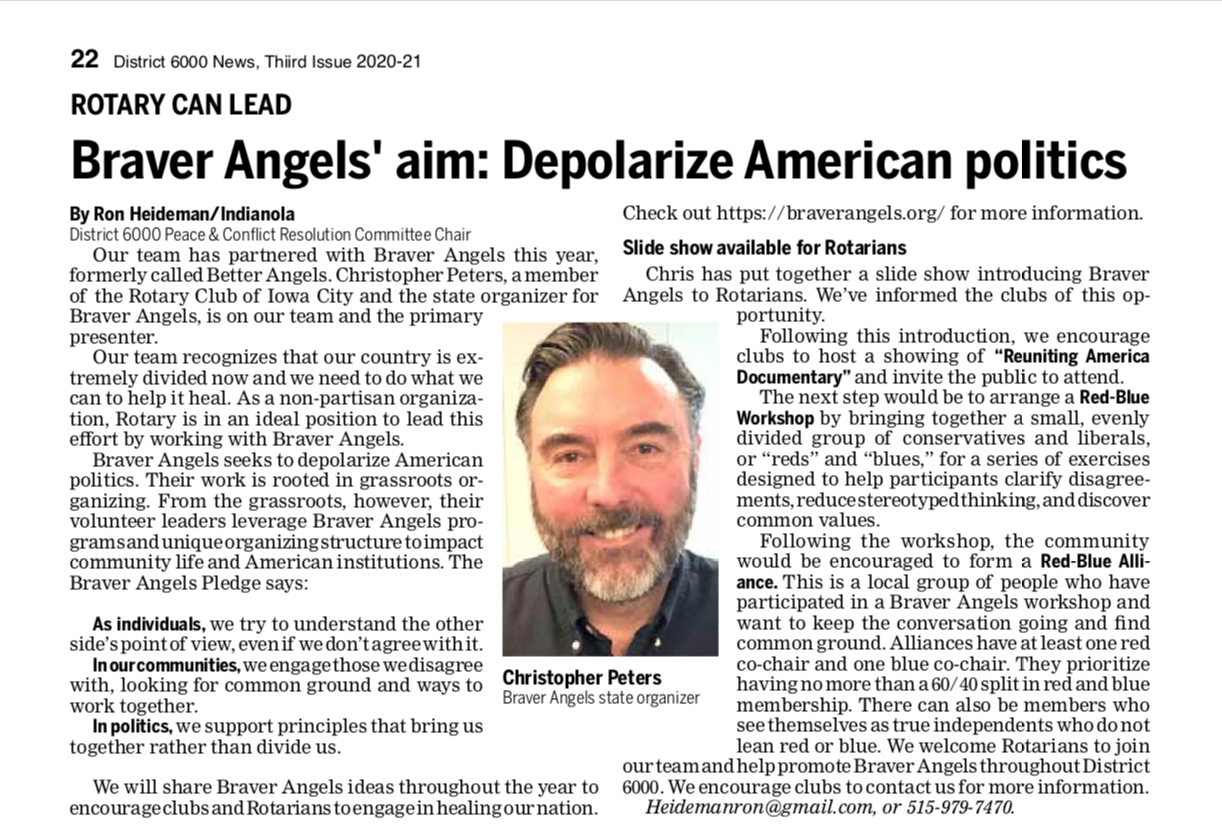 Dr. Christopher Peters is best known around Marion County as a former Republican candidate for Congress. On March 4, he was the guest of Harv Sprafka at the Knoxville Rotary Club to discuss his new venture, Better Angels.

Better Angels is a grassroots campaign to bridge the gap between the two major political parties in America. Studies have shown that there are fewer issues that bring the two together in the middle. What Peters and his group try to do is restore common ground, and find ways for the two sides to talk without insulting each other.
On Thursday night, more than 80 people sipped beers at Iowa City's Big Grove Brewery hoping not to dull the important fractures in politics today but to create cross-partisan bonds that might make bridging them possible.

"We are at what feels like a really fractured moment in our national politics and because increasingly our local elections are nationalized, who you support locally is indicative of who you are (and) who you support nationally," said State Sen. Zach Wahls, D-Coralville.

Side-by-side with Wahls, State Rep. Joe Mitchell, R-Mount Pleasant, said even as a member of the majority party, it is important to remember how few and far between full scale partisan brawls are in the state legislature.

"I think a lot of times we just see the big issues of immigration, abortion, and there are so many other issues out there that we need to work on that we can find common ground, that we can find common consensus for," Mitchell said.
One month ago, Nearmyer and Smith were named the 2019 Better Angels Friends of the Year by Better Angels Iowa, a group whose mission is to advocate civil dialogue between elected and constituent party members, especially in a time where discourse revolves largely around politics.

Between organizing the annual bipartisan soup supper fundraiser and promoting a presentation by Better Angels Iowa in September, Nearmyer and Smith are making positive strides to better acquaint Democrats and Republicans with each other and develop respectful communications.

Their friendship and their willingness to get along with each other has caused some friction with a few supporters. Nearmyer and Smith shrug their shoulders and shake it off; they believe that kind of hostility, particular in politics, is largely amplified by social media websites and news commentaries.

"That sentiment is out there that we shouldn't get along with them, we shouldn't collaborate with them, we shouldn't be eating a meal at the same table with them because they're the 'enemy' — I don't think that politics should be that way," Nearmyer said. "Politics shouldn't come between friends or relatives."
In the summer of 2016, when I was first running for Congress, I was called a homophobe by a Democratic activist, because I was a Republican candidate. At the same time, a Republican activist called me a sodomite-lover, due to my support for same-sex marriage. I was stereotyped by both sides over the same issue; what a Republican candidate must be (a homophobe) and what a Republican candidate should be (against same-sex marriage).

If anything, our national politics has become even more absurd since then. In fact, it is more than absurd; it has become paralyzing and destructive. Our polarized politics have not only led to increasing dysfunction in our federal government, it is damaging the social fabric of our communities and families.

According to the Hidden Common Ground Initiative by Public Agenda, more than 80% of Americans feel that divisiveness and gridlock are big problems, and almost one-third feel that destructive partisan disagreements have directly affected their lives. At the same time, nearly three-quarters of Americans feel that there is more common ground among the public than is portrayed by the media or political leaders.
In less than two months, Iowa will hold its caucus, beginning the process of deciding upon a Democratic presidential candidate. In less than a year, our country will either elect a new president or reelect Donald Trump. Regardless of that outcome, I don't believe that our deep political divides and animosity will be healed, either at the state, national, or community level. That is something that we must do, and Better Angels is leading the way here in Iowa to accomplish just that.

We at Better Angels Iowa are proud to announce that Gov. Kim Reynolds has recognized our efforts, proclaiming Saturday, December 14 as "Better Angels Day" in Iowa. It is a pleasure and an honor for us, consisting mostly of volunteers, to be acknowledged in such a manner. And it inspires us to redouble our efforts to heal our communities, our state, and our nation.
On Friday, Reynolds will sign a proclamation declaring Saturday, December 14, Better Angels Day in the state of Iowa. Better Angles, a national nonprofit with an Iowa chapter, has been trying to get a foothold in Iowa in an effort to make conversations around politics in its 99 counties a little more civil.

Christian Sarabia, state supervisor for Better Angel's Iowa Outreach Project, said when he started with the group, he was chairman of the Graceland University Republicans and his roommate was the chair of the College Democrats. It was 2016 and things were tense, he recalls.

"Look, we love our politics here," Sarabia said. "But we also like being Iowa nice. We hold that near to us. We can love our politics here and still have a civil conversation about it."
Better Angels has a mission to depolarize American political conversations, and the group spoke Tuesday at the Marion – East Cedar Rapids Rotary Club.
Leaders from that organization said there is a growing divide between the values of Republican and Democratic parties along with growing animosity. They want to help people talk to one another with opposing political views without sacrificing their own ideals.
Peters' presentation a week ago was co-sponsored by both the Jasper County Democratic Party and Jasper County Republican Party. Both chairpersons of the local parties — Michelle Smith and Thad Nearmyer, respectively — have organized and embraced bipartisan events in the past, such as the annual bipartisan soup supper.
Based on the reception and higher-than-expected turnout of last week's event, Nearmyer isn't ruling out the possibility of another type of workshop in the future. "I feel like we had a lot of people interested enough to come to the first event so maybe that's a possibility," Nearmyer said.
Smith said there are certainly political differences between herself and her GOP counterpart. "It doesn't mean at the end of the day there aren't things we can agree on and work together on, and that's something we really try to showcase," Smith said. "I think there's so much we can do to improve our communities and things that are important to us."
A majority of Americans have negative views of political polarization in America, and one Iowa group is trying to change that. According to 2018 research data from the Pew Research Center, just a quarter of Americans surveyed believe the tone of political leaders is respectful, but over 60 percent said a respectful debate in politics was "very important."
In this episode of The Cloakroom, The Daily Iowan takes a closer look at political polarization in the United States with members of the organization Better Angels. Former congressional candidate Dr. Chris Peters and University of Iowa students Sawyer Smith and Eli Harberts sit down with the DI for an interview about how the Iowa chapter of Better Angels is working to mend frayed relationships between Democrats and Republicans by moderating discussion and debates.
At a time where polarized political parties are the norm, it can be difficult to imagine public discourse any other way. But this wasn't always the case, and it doesn't have to remain this way. In fact, we may already be on our way to a more civil and sympathetic political landscape.
For my fellow students who want to get involved, the University of Iowa is getting a Better Angels organization implemented on campus this semester. Better Angels is a nonprofit organization with the mission of "uniting red and blue Americans in working together to depolarize America." I was drawn to this organization as the mission is not to change political views, but instead to focus on intentional listening to promote understanding among fellow citizens.
Less than a score of souls gathered on a March morning at Graceland University's library. We participated in a day-long workshop designed to get people of marked different ideologies to listen to each other, to show each other that each side could be understood by the other, but not necessarily to change the participant's ideology. We were there to understand, not persuade.
The workshop concluded with each group presenting their positions from a positive perspective—as they saw them. The other (note that I did not use the term opposing) group was to listen, just listen. They might ask for points of clarification, but they were not to do so in a corrective or antagonistic manner. It was amazing how much we felt heard from the other side, not necessarily agreed with—far from that—but heard, understood. Were anyone's opinions dramatically changed—I doubt it. But could we sit down with members of the other group and work together on a common project? I believe emphatically that the bridges of civility were built strongly enough that we could.